Please read our reviews :-)
5 stars! 🙂 Also to be found on AirBNB, HomeAway, Google……
We would like to thank all our guests for taking the time to leave reviews and hope to have you as our guests for years to come.
---
Couple with a toddler, June 2019
Five stars. I know Jávea very well, having been visiting since I was a little girl, and this location is unbeatable! We picked it because the apartment not only has a fantastic pool (huge!) it is steps away from the Arenal beach which is my absolute favourite. With a young son having the beach and it's amenities nearby was ideal.
The apartment itself is so well equipped – all the things you need to stay in and cook or rustle up breakfast in the morning. Also the washing machine came in very useful! The rooms are a great size and very comfortable – the super-king size bed was ideal and the twin room had plenty of space too and storage for clothes. The bathrooms were both very modern and well lit with hot powerful showers! Not always a given in Spanish apartments!
We loved the extras such as UK tv, superfast broadband and the beach chairs that were available to borrow for ventures out. The apartment block itself is very well maintained and very secure. We were met by the property agent who gave us a tour and some tips and provided a great clean and linen change during the middle of our stay. She even arrived at 4am to do our handover when we had to leave for an early flight! And she was smiling despite the hideous hour.
It was the perfect holiday, made even better by kniwing our brilliant host Janie was on hand for any questions. We will be rebooking!
---
Swiss couple, May 2019
This is an excellent apartment for several reasons: Firstly for the welcome and kindness of the owners, secondly for the beautiful location with a saltwater swimming pool a few steps from the apartment and for the practical location in Jávea. The apartment practically arranged has everything you needfor your stay. All information about the area is available. Restaurants 100 meters away, seaside beaches a short walking distance. Gorgeous coast to explore while driving walking or cycling. A wonderful experience.
---
Three UK ladies, May 2019
Brilliant stay, apartment immaculate, couldn't fault it. Very well equipped. Handy for all the restaurants and shops. Hope to come back.
---
A UK couple, April 2019
We stayed here at the end of April. Lovely, comfortable, spotless apartment with everything you could need. Great outside garden patio, very private and always a choice of sun or shade. Just a few steps to the pool. The apartment is so handy for the beach/restaurants etc. Lots of lovely walks to be had. Janie is great to deal with – nothing's too much trouble. Thank you Janie, highly recommended.
---
Two ladies, with two teenagers, UK, August 2018
On arrival we were met by Sue and Eduardo who were amazing and helpful throughout our stay. The apartment is well equipped just like a home from home with every amenity you need for your stay, it has lots of pool toys, beach chairs etc for guests to use. Sue and Eduardo ensured the apartment was extremely clean and tidy and it was lovely to have the mid clean half way through our holiday. We came with two 13 year olds and it was lovely for them to have the independence to be able to play in the pool and for us to be able to hear them from the terrace. The location was amazing no car needed. It was lovely to be able to step out of the apartment with only a 1-2 minutes walk to all the restaurants, bars and the beautiful sandy (child friendly) beach. Although the location was close to everything we were never disturbed by the noise from the bars and restaurants. The port was only a 25-30 minutes walk or a short bus journey away also offering shops, restaurants and the rocky beach. Janie was very helpful and friendly and we thank her for letting us stay in her beautiful apartment. We would definitely recommend her place to anyone and would love to stay there again.
---
Lovely mature couple from UK, September 2018
Everything you could want with perfect location. Well equipped, clean, tidy apartment with pool literally a couple of steps away. Secure parking, quiet and safe with the beach and 'rambla' with bars and restaurants just across the road. You couldn't choose a better place!
---
José Ewa & family from Madrid , August 2018
Clean, well-equipped & maintained, cosy apartment. Excellent location (2 minutes walk to the beach). A very clean, well-equipped and well-maintained apartment with a big terrace in a quiet area, yet very close to the bars and the restaurants. Very nice hosts who left us all kind of information about the flat (regarding the WiFi, the washing machine, etc. and the entertainment in the area). Big shower and celing fan/fan in each room. Big, clean and not crowded swimming pool open from 10 am to 12 am with direct access from the apartment. A very pleasant stay.
---
French family, July 2018
Our stay in "Margot" was just perfect! The house was comfortable, clean (very clean!) and well fitted out. Nothing was lacking. Sue and Eduardo were most welcoming and efficient. We are very grateful for it. Also, we appreciated very much the fact of being able to be in touch with you Janie. Thank you for your advice and kindness. We very much hope to come back one day. Many thanks.
---
Two adventurous UK couples, June 2018
This place is all about location, location, location, being only a 2 minute walk from the centre of the fabulous Arenal beach and fully South facing overlooking (almost in) the pool.
Normally we never do reviews but at Las Dunas ticked all our boxes, we have made an exception.
Apartment was spotlessly clean, well situated and we found it a great base to explore the many facets that Javea has to offer. A well balanced and friendly resort combining the charm of the 'old town' the sandy Arenal beach, and also the third dimension of the port area.
We actually hired a car for the week that we stayed but didn't use it much as everything was right on our doorstep and this apartment has sat TV, fibre optic WI-FI, and plenty of good information is given on the web pages as to special local places to visit, restaurants etc.
All in all a great base camp for adults and families alike. Well recommended.
---
Claire & family, UK, June 2018
We had a fabulous time the apartment was perfect for our 2 young boys, everything we needed and more. Janie was amazing from booking to leaving, she and Sue did everything to make sure we had a fabulous time. We can't wait to come back again. Thank you so much.
---
Jane, Chris & two teenage boys, UK, May 2018
"The most relaxing holiday we've ever had!
How to describe Las Dunas, Javea…….well I would say that it has everything that you could possibly want for an easy, relaxing holiday.
Janie (the apartment owner) made every effort to ensure that we had all the information that we needed before arrival, even going so far as to give me a list of local attractions when I asked what we should do with two 13 year old boys for a week in Javea.
If I had any queries, like does the apartment have a washing machine, (it does by the way!), Janie always responded immediately which made planning ahead lovely and simple.
Before arrival Janie sent me a photo of the entrance to the apartment complex so that we would know exactly where we going and what we were looking for.
On arrival, Janie had arranged for Sue to meet us (she stood on the street outside and guided us in). Sue was fantastic, showing us how everything worked and which keys fitted which locks.
Our first impression was of how super clean the apartment was, absolutely spotless!
The boys were very excited to find the , very large, pool just outside the back gate. I have to mention that, as we were staying mid May, they had the pool almost exclusively to themselves all week which went down very well.
We would highly recommend The apartment which was a home from home (Janie had even made sure that there was a pint of milk and a bottle of water in the fridge waiting for us). Beds are large and comfortable, there is a huge shower in the main bathroom, kitchen has all necessary crockery, utensils and white goods and lounge diner is large and spacious.
Outside there is a large secluded terrace which is mostly shaded, but I did manage to find a strip of sunshine in which to position myself. The terrace has a choice of seating, a large dining table and reclining chairs and also some easy chairs, perfect for a glass of wine in the evening.
One of the best aspects of the apartment for us was how secure it was. It is on a gated complex which needs a key to enter and we felt very happy letting the boys go in the pool by themselves and also to wander back to the pool if they got bored whilst we were on the beach.
In fact the whole resort feels very safe and secure. The boys thoroughly enjoyed their first taste of freedom, being able to wander to the beach (where the sea is safe and almost wave free) whilst we got ready in the evenings or staying in bed in the mornings whilst we went to buy breakfast. We felt completely relaxed letting them have a bit of space, there is a zebra crossing just outside the apartment and then you are more or less on the beach.
The Arenal beach is beautiful and very clean, (the beach and promenade are cleaned every morning). Right on the beach promenade are a large number of upmarket bars, little shops and (to the boy's delight) creperies, frozen yogurt shops and ice cream parlours.
We worked our way round the huge variety of bars and restaurants during our stay and have to say that Service in all was generally good and, although pricey, food was of a good quality. We particularly enjoyed watching the sunset in Botanico which is to the far south of the Arenal beach and breakfast croissants in Austriaco Cafe Wein were hard to beat.
I can honestly say that our week in Javea was the best Spanish holiday we've ever had. We spent some quality time together and because the boys were happy doing their own thing, we were happy. I am ashamed to say that we didn't actually explore any of the local attractions, despite having hired a car for the week. it was just too wonderful having time to do absolutely nothing other than sit in a bar or on the terrace of the apartment whilst the boys played in the pool or on the beach with other children they met there. We are just going to have to go back sometime and explore the local attractions!
Janie made sure that all of the arrangements were so simple and seamless that we couldn't have had a more relaxing and stress free week.
---
Stephanie & Johnny, UK, October 2017…. Perfect location
This was such an easy holiday! Communication with Janie the owner was excellent beforehand and we liaised with the local housekeepers Sue and Ed to meet us at Las Dunas. They let us into the property early as it had been vacated a few days before and there was milk and tea bags to get us started. The appartment is lovely and clean and has everything you could possibly need. The outside space is fantastic being spacious and private yet just through the gate you have access to the pool and gardens which are well maintained. This would be ideal for families with young children. But the real beauty of Las Dunas is its location being just a stones throw to the arenal with its restaurants and bars and beautiful sandy beach. Here there is everything from fine dining to burgers, great bars and lovely patisseries, ice cream parlours and shops. What a great find!
---
Tina & Kevin, UK, September 2017
We had such a relaxing holiday. Janie even organised the taxi transfer for us. Thepleasant housekeepers met us at the apartment to show us round, so much easier than hunting for an agent's office to collect the keys. Everything we needed was there and all really clean. Loved the large patio with naya, as it is ground floor and a corner plot, so private and yet just steps from the great pool and the complex was quiet. Perfect for us as a couple but we can see that families or two couples of any age would feel equally at home. The location is perfect, just a stroll across the road to the promenade with a fantastic selection of restaurants, bars, cafes and little shops. The beach is beautiful, a sandy bay and walk either way along the coast for some stunning vistas. We would recommend this apartment to anyone and plan to return again soon.
---
Inga, Jörg and two little girls, Germany, September 2017
Very nice hosts, who gave us all questions and information in the run-up quickly and extensively. The location of the apartment is great, in 2 minutes to the beach and promenade. The apartment is very clean and very well equipped. A large pool is also available. We will be back!
---
Andrew & Gail from the UK, August / September 2017
Fantastic holiday. The apartment was in a prime position close to all amenities everything you needed for a beach holiday was there,having sue meet us off the bus was very helpful and the milk and teabags were a godsend after our long trip.we had a fantastic 10days and would recommend to family and friends and we will hopefully return next year.
---
Kerry, Peter and two teenagers from UK…back again 🙂 August 2017
We had a wonderful week at Las Dunas, the apartment is very clean good size and well equipped absolutely everything has been thought of even things for the fantastic swimming pool which is huge and easily accessed from the private veranda (with comfortable dining seats & table with another seating area to relax) by simply opening your gate a few steps and you are in the pool which was lovely and warm when we were there in late August We did hire a car although this is not necessary as Arenal is a minutes walk with great bars, lovely restaurants and the beach which is a must it's a great clean family beach and the water sports facility's are fantastic. We also had a go at go-karting only a 5 minute drive this was also great fun. The apartment is very comfortable with two bathrooms (bonus with two teenagers) well equipped kitchen, great wifi lots of English TV channels available and the secure private parking space right outside We arrived early and the lovely housekeepers allowed us in so we could have a dip in the pool before unpacking Thank you for a great holiday, we can not wait to come back again next year.
---
Natalia, Kaddaf and baby daughter from Madrid in August 2017
Vacaciones perfectas. No podríamos haber elegido un lugar mejor en Javea. La casa muy limpia y con todo lo necesario para pasar unas vacaciones sin preocuparse de nada. A 2min de la playa y con la piscina en la misma puerta del jardín.
---
Gäelle, Domenique & daughters 15 & 12 from France, August 2017
Ideal location in ground floor for 4 people close to the pavement and sandy beach Arenal. Luxury residence with large swimming pool and pleasant garden. The photos of the apartment correspond exactly to the description. The terrace is very large with direct access to the pool. Many beach items available (chairs, deckchairs, inflatables …). Secure car park and in the shade in the residence. The apartment is very clean and well equipped. The people on site (Sue and Ed) are lovely and very available. We stayed for 3 weeks and had a change of bed linen and a full housekeeping in the middle of the stay. Contact with the owners is very easy. These respond immediately to the slightest solicitation. They are very friendly and look for any solutions to meet our requests. Our deposit was returned at the end of our stay. We highly recommend this rental and wish to return.
---
Rob & friends, UK, June 2017 "Lovely Apartment, Great Location"
This is a lovely, well appointed, apartment set in a pleasant gated block a stone's throw from the Arenal.
The owner, Janie, is so helpful and approachable. She did everything to ensure we were prepared and had a good trip.
The block is easy to find, being so central. We were met by Sue, who gave us the keys and ensured we had everything we needed and gave us our orientation.
The apartment has 2 good sized bedrooms, one en suite, a family bathroom, a nice sized sitting room and kitchen and the patio is lovely and sheltered. Open the back gate and you are right beside the shared pool. There is a parking space near the front door, so if you have a car it would make a great base to explore the area. If you don't have a car the Arenal (main beach, shops and restaurant area of Javea) is literally a 2 minute walk away.
We thoroughly enjoyed our time at Las Dunas and would recommend it to anyone.
---
Sandra and Friends for a stay in June 2017
The owner Janie was amazing, giving lots of information and handy tips. The Apartment is in an excellent location with the pool virtually by the terrace, the child safe beach is a stones throw away. The owners have thought of everything and the apartment is well equipped even down to wiggles for the pool, and a shopping trolley for your provisions. Arenal promenade is filled with excellent restaurants. The resort has everything to hand, ideal for couples, groups, families and young children. I recommend you book and see for yourself.
---
Paola, Armando and two small children, for a stay in June 2017
El apartamento es perfecto para todo tipo de huéspedes pero especialmente para familias con hijos pequeños como nosotros: – Está cerca de todo (la playa literalmente a menos de un minuto andando) y la piscina a tres pasos. – Está muy bien equipado con todo lo básico para pasar unos días, incluidas trona y cuna para no tener que llevarte nada. – Tiene extras como sillas de playa, cubitos y palas, sombrilla… que aligeran aún más tu equipaje. – Y mención especial para la terraza, que da la vida. Yo no lo dudaría si volviese.
Google translate says 😀
The apartment is perfect for all types of guests but especially for families with young children like us: – It is close to everything (the beach literally less than a minute walk) and the pool is three steps away. – It is very well equipped with all the basics to spend a few days, including high chair and crib so you do not have to take anything with you. – It has extras like beach chairs, coolbox and shovels, umbrella … that lighten your luggage even more. – And special mention for the terrace, which gives life. I would not hesitate to come back.
---
Rachel and family… from May 2017
We came the first week in may, was very quiet in the complex, not many people around yet. We were greeted at the airport by the owners housekeepers, both very friendly and helpful. The apartment was lovely and clean, great location for beach and restaurants, local bus stop only a 2 min walk. Pool outside the back door was great. Everything you could think of needing for the week was in the apartment, very well equipped, and the owners are very helpful. A lot of effort goes in to making sure you enjoy your time there. A nice added touch 🙂 Will definitely be returning. Had a lovely stay, relaxing and quiet. Just what was needed. Thank you.
---
Michał K and family, Poland stayed July 2016 & July 2017
Truly the best in Xabia! We – two adults and two children – stayed at Las Dunas for a week in July 2016. This place is exactly as it is described – a perfect location and a perfect place for you to stay and simply relax enjoying the proximity of the pool, the restaurants, the beach and the entire town of Javea. This became one of our favourite locations in Spain and we can't wait to come back in 2017 and relax once more. The apartment has everything one may need and the large terrace adjoining the entrance to the pool is absolutely perfect. If you add the ultra friendly owner – Janie – to the equation you'll get your perfect holiday spot in Spain. Thanks and we're looking forward to more:) !
---
Kathryn & Royston, UK
My husband and I spent a week at Las Dunas this October (2016). We've stayed in Javea before but have always rented a villa. As we were only away for 7 nights we decided we'd like to be a little bit closer to the beach, bars and restaurants. My husband found Las Dunas and I contacted Janie. I can honestly say I have never encountered a more helpful owner or had a happier booking experience. Janie couldn't have done a thing more, unless she'd flown us over and driven us there herself!
The apartment is easy to find, as it is second line to the main Arenal beach in Javea. We drove, so to have secure, designated parking was a blessing. The apartment itself is beautifully clean, very well equipped and perfectly furnished – and the beds were so comfortable! On the terrace there is a beautiful seating area as well as a dining table. Through the terrace gate you take two steps, open the gate to the pool, 3 more steps and you are in it! We've always had villas before, because we like the privacy, but I have to say the small complex of apartments is so quiet and peaceful that 99% of the time had the pool to ourselves. And a beautiful pool is – we were trying to estimate it's length – 25+ metres we thought. I swam loads every day and came back fitter, for sure.
In terms of what is close to the apartment – you walk out of the gates, turn left and there is fantastically well equipped supermarket a couple of minutes walk away. Leave the gates and cross the road – 30 second walk and you're on the promenade that runs the length of Arenal beach. I'm a head chef, so I cook for a living, it was such a treat for me to be able to make the most of the fab restaurants on your doorstep. Our favourite meal was at La Boheme – just delicious! The Kraken/Octopus bar is great for drinks, snacks, tapas and a fun, relaxed atmosphere with good music.
If you like a walk, the port of Javea is around a 30 minute stroll away and there are some lovely restaurants there. During the summer the chiringuito/beach bars en route are all open – so plenty of opportunity to stop for a drink on the way. The old town of Javea is around an hour walk from the apartment, but it's a lovely walk we find. There is a fabulous municipal covered market with amazing produce and authentic tapas bars.
A massive to thank you again to Janie and her husband. Las Dunas is their winter home and it does feel like a coming home when you arrive, so comfortable and well equipped, we switched off from the daily grind immediately. We will definitely go back.
---
Peter from Belgium for a stay September 2016
This time I decided to rent an apartment, Las Dunas. It's a beautiful place with all the comfort you need to enjoy a relaxed holiday. I Just love the pool,you Just have to open the gate of the terras and you can jump into the pool. The apartment is very clean and fully equiped. In the kitchen you can find all comfort to prepare a nice meal. It even has a big freezer and a washingmachine.
You can take a shower or a bath in one of the two bath rooms. It also has a private parking for those who come by car.
Also the beach, shops and restaurants are on walkingdistance. The landlord Janie, a very nice lady by the way, made this place feel like home. I already Booked my next holidays for next year in Las Dunas. So all I can say, I would recommend this place to everyone. If you visit Javea be sure you stay at Las Dunas. I enjoyed my stay at lot. Thanks Janie and Bob for having me. I will be back next year. I can't wait.
---
Pete & Kerry & son and daughter aged 15, f

or Aug 2016 (and back in 2017)
We stayed at the Las Dunas apartment in August for a short five day break and we would recommend it to any body looking for a great location.The appartment is well equipped with everything you need for your self catering holiday,even little things you may not have thought of like a cool bag and ice packs for the beach,internet wifi and uk Tv stations. With the pool being suitable for all ages and three steps from the appartment it's ideal for a nice swim before you can walk out of the complex(which is security gated with your own key so compleatly safe)and within five minutes you are on the sea front which has a great selection of restaurants to choose from you will be spoilt for choice, we went out every night and because of the location we didn't have the normal problems of finding somewhere to park!.We could also both have a drink and a even slower walk back without any worries. If you love water sports then you only have to vist the beach (five minute walk!)and you can rent High powered speed boats or jet ski or if you like a thrill the stunt power boat.If that's not for you just relax on the sandy beach and try a pedalos with a slide on! After a trip in the speed boats you could have a drive out and discover the beautiful coast line. We will be defiantly staying at the Las Dunas again very soon.
Sandra and family from the Netherlands in May 2016
Nice appartment with a big swimmingpool in the backyard. The beach is very nearby also the boulevard of El Arenal. Even beachchairs and coolerbox are available for use. Internet is available. 2 bedrooms and 2 bathrooms is a luxury. The collection of the keys and the directions to the appartment were fine.
---
David J and partner 2016
We stayed at this lovely apartment in the centre of the beach area ( Arenal ). We had secured parking for our hire car. The swimming pool was on our doorstep for a refreshing dip after our day of sightseeing. The apartment is very well equipped with TV, satellite and wifi. It felt like a home not a holiday rental. Everything had been provided and it was first class. We would recommend this apartment for its location to the beach, shops, bars and restaurants.
---
In our visitors book:
A Spanish family for a stay in July 2016
Dear Janie & Bob, We really liked your apartment! It's very clean and the kitchen had everything we needed. I loved having coffee in your owl cups. It's so close to the beach and it has a great swimming pool, which our children enjoyed so much.
We would love to come back here.
Warm regards, Ewa, José Miguel and family.
---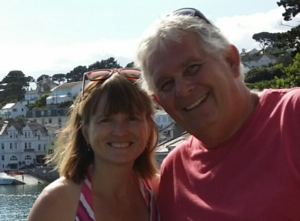 Published: January 8, 2020